Carlton Hope:
Edit
is a malkavian priest.
Mavarek Namolathom:
Edit
Locations
Edit
Los Angeles
Edit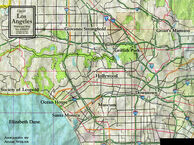 Organizations
Edit
There is a legend among vampire society. It has existed for millennias. Long ago a vampire was embraced and he possessed something special, none can say what it may be. But he was the perfect killer. His lust and hunger knew no bounds. His discretion was unknown as he drank from kindred and mortals alike.
Tonight a childe was embraced illegaly and the master was executed. Your group watches as this unfolds.
Session #1
Edit
Behind the Scenes
Edit
Son of Sam: The scene where the city becomes a mob.
Blade Trinity: The scene where Drake is walking through the city and goes into the Dracula merchandice store.
Vampire the Masquerade Bloodlines: The vibe, unease and uncertainty of an ancient vampire somewhere out in the city.
Ad blocker interference detected!
Wikia is a free-to-use site that makes money from advertising. We have a modified experience for viewers using ad blockers

Wikia is not accessible if you've made further modifications. Remove the custom ad blocker rule(s) and the page will load as expected.